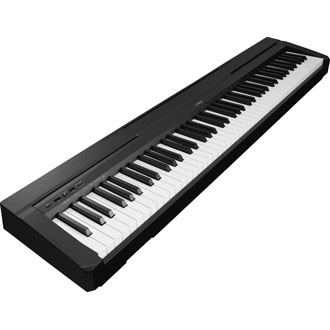 P-35
INFORMASI PRODUK

| | | |
| --- | --- | --- |
| Cicilan 12x | Cicilan 6x | Cicilan 3x |
| Rp. 482.500 | Rp. 965.000 | Rp. 1.930.000 |
Fitur
Piano sound
AWM (Advanced Wave Memory) sampling uses digital technology
to record an instrument's sound. It then applies a high-quality digital
filter to the recorded audio samples. AWM Stereo Sampling creates a
deeper, richer and more spacious sound by using pairs of waveforms
(L and R) captured with two microphones.
Graded Hammer Keyboard
Just as on a traditional acoustic piano, the keys of the lower notes have
a heavier touch while the higher ones are more responsive to lighter playing.
The keyboard's sensitivity can even be adjusted to match your playing style.
This Graded Hammer technology allows this lightweight instrument to
provide an authentic touch.
Compact, light weight
Like other P-series digital pianos, the P-35 has a slim, contemporary
and compact design. This allows for both easier storage and portability in a
wide range of applications.
Easy to use interface
P-35's interface is really simple. The "Grand Piano" button is easy to
find on the front panel and instantly returns the P-35 to the best
acoustic piano Voice.
Specs
Warna/Hasil Akhir
Ukuran/Berat
Dimensi
Lebar
1326mm
Tinggi
154mm
Kedalaman
295mm
Berat
Berat
11.5kg
Pengaturan Interface
Keyboard
Jumlah Kunci
88
Tipe
Graded Hammer Standard (GHS) Keyboard
Sensitifitas Sentuhan
Hard/Medium/Soft/Fixed
Panel
Bahasa
English
Suara
| | | |
| --- | --- | --- |
| Tingkatan Nada | Teknologi Generate Nada | AWM Stereo Sampling |
| Polyphony | Jumlah Polyphony (Max.) | 32 |
| Pengaturan Lain | Jumlah Suara | 10 |
Efek
| | | |
| --- | --- | --- |
| Tipe | Gema | Yes (4 types) |
| Fungsi | Ganda/Lapisan | Yes |
Effects
Lagu
| | | |
| --- | --- | --- |
| Pengaturan Lain | Jumlah Lagu Preset | 10 demo +10 preset piano songs |
Fungsi
Pengaturan Keseluruhan
Metronome
Yes
Pengubah Nada
Yes
Tuning
Yes
Penyimpanan dan Sambungan
Sambungan
DC IN
DC IN 12V
Headphone
Standard x 1
Sambung
Pedal Sustain
Yes (Half pedal available with optional FC3)
Sambungan
MIDI
Yes(In/Out)
Amplifier dan Speaker
| | |
| --- | --- |
| Amplifier | 6W x 2 |
| Speaker | 12cm x 2 |
Sumber Daya
| | |
| --- | --- |
| Sumber Daya | PA-150/PA-150A |
| Penggunaan Daya | 10W |
Power Supply
Aksesori
Aksesori yang Termasuk
Music Rest
Yes
Pedal/Footswitch
Yes